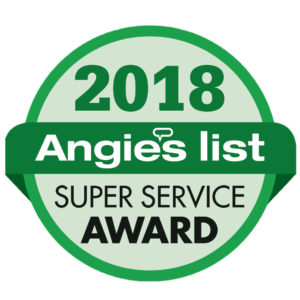 Guy Painting Earns 2018 Angie's List Super Service Award
Award reflects company's consistently high level of customer service
Indianapolis, IN 1/17/19– Angie's List is proud to announce that Guy Painting has earned the home service industry's coveted Angie's List Super Service Award (SSA). This award honors service professionals who have maintained exceptional service ratings and reviews on Angie's List in 2018.
---
"Service pros that receive our Angie's List Super Service Award represent the best in our network, who are consistently making great customer service their mission,"
"These pros have provided exceptional service to our members and absolutely deserve recognition for the exemplary customer service they exhibited in the past year." – Angie's List Founder Angie Hicks.
---
Angie's List Super Service Award 2018 winners have met strict eligibility requirements, which include maintaining an "A" rating in overall grade, recent grade, and review period grade. The SSA winners must be in good standing with Angie's List and undergo additional screening.
We are honored
"Guy Painting is a family-owned and operated full-service painting company. 
We pride ourselves on our commitment to:
Proper Prep Work,
Customer satisfaction,
Quality Finished Product. 
We are honored to receive the award and thank our many wonderful customers that have shared their experiences and kind reviews" – Owner Ron Jones.
On Angie's List Since the Beginning
Guy Painting has been listed on Angie's List since 2012. As a matter-of-fact, this is the 7th  year in a row Guy Painting has received this honor.  Guy Painting has earned the SSA every year that they have been in business.  That speaks volumes to their commitment to customer service and to there success.
Guy Painting, keep up the good work!