It seems now more than ever, the family kitchen is the true heart of our home! We spend time together in the kitchen cooking, eating, entertaining – and in the process, we add the life to our homes. Over time, some of that life and love can wear on your cabinets and you may be looking at options to update your kitchen. Instead of a full kitchen renovation, many people look at the kitchen cabinet painting process as a more affordable option that can still make a huge impact in your home!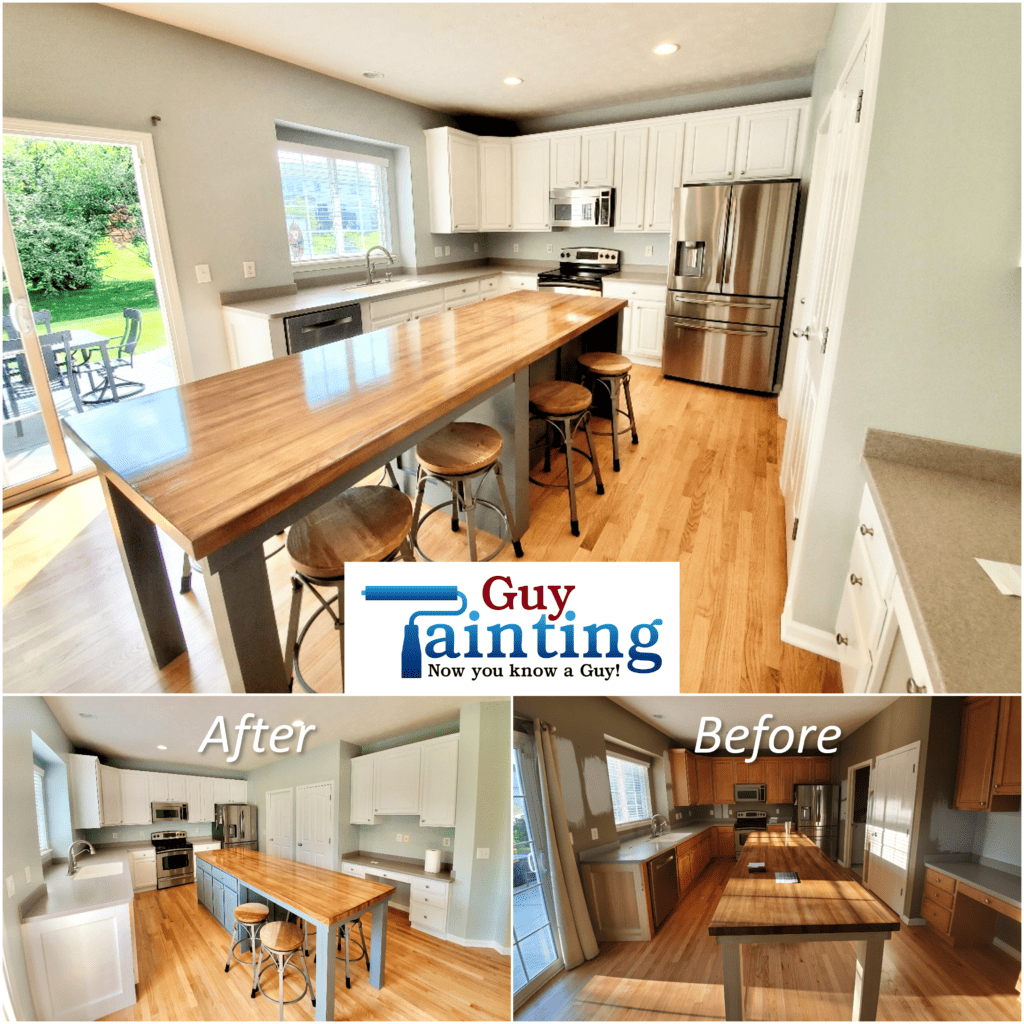 Kitchen remodel with painted cabinets in white and contrasting dark island
Cabinet Color: Sherwin Williams SW7005 Pure White
Island Color: PPG 1012-6 Volcanic Ash
Wall Color: PPG 1039-1 Ghost Whisperer
You may have looked at how to paint kitchen cabinets yourself and thought about tackling the project on your own. If you're handy and have the proper tools, this may be an option for you. If you're like many of us, though, this may be a job better left to the professionals! Our painters have years of experience doing this exact project – and our results speak for themselves! Here's a quick behind-the-scenes look at our process for painting kitchen cabinets:
We come to you to put together a free quote
A top question is always "how much does it cost to have my kitchen cabinets painted?" and the best way for us to answer that is to come take a look and put together a free cabinet painting quote for you. Every kitchen is different, and we want to give you the price that you will pay. Some cabinets will take more prep work, have more panels and trim, or intricate details, while others are more simple and take less time. Our quotes are all-inclusive and we detail exactly what that price covers. No surprises or hidden fees, it's all taken care of!
Choosing a kitchen cabinet color
Are you painting your kitchen cabinets a classic white? Maybe a modern black? Moody blue? We have done it all! Browse Instagram, Pinterest, Sherwin-Williams and everywhere else for inspiration. Then just show us your dream color and let's talk about how we can make it happen!
Not sure what color to paint? We've got you covered there, too! Many of our kitchen cabinet painting projects qualify for a free color consultation with an interior designer specializing in color. If you've ever tried to pick a shade of white, you'll know how overwhelming that can be. We've seen these colors in action and are happy to guide you to the best color for kitchen cabinets in your home!
Getting started
Before we begin, we will walk the project with you and verify all of the details and answer any questions.
As with all painting, the quality of the finish is based on the prep work. Our painters will start by protecting your kitchen from any paint splatters or overspray. Anything not getting painted will be covered. We also will set up a temporary spray booth, typically in your garage.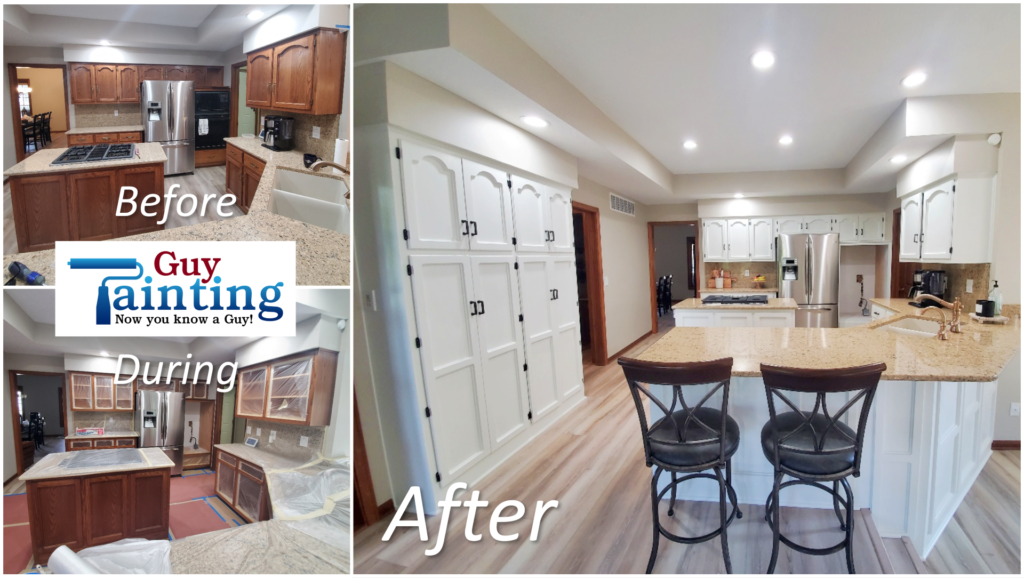 Painting
The process for painting and products used will depend on a lot of factors, as each kitchen is unique. When we make your quote, we will customize the process for your kitchen so that you don't pay for anything you don't need. A typical kitchen may have the following steps:
We remove cabinet doors and drawers, and all hardware. We then take these to the temporary spray booth in your garage to be painted.
Next we lightly sand as needed for paint adhesion.
Lines and seams are caulked where needed.
Often, we need to use a spray primer. This is typically an oil based primer. Oil based primer does a great job of sealing the surface of the wood, allowing the paint to cover better.
Most cabinets will now have two coats of paint sprayed. What paint is best for painting kitchen cabinets? Well, it depends! Over the years, we have selected certain paints that perform better in various situations. If you're painting a dark color, we may suggest using a different product than if you're painting the cabinets white.
Through the process, our painters and Quality Managers will perform numerous quality inspections to make sure everything looks great.
Now it's time to put everything back together, and clean up your beautifully refreshed kitchen!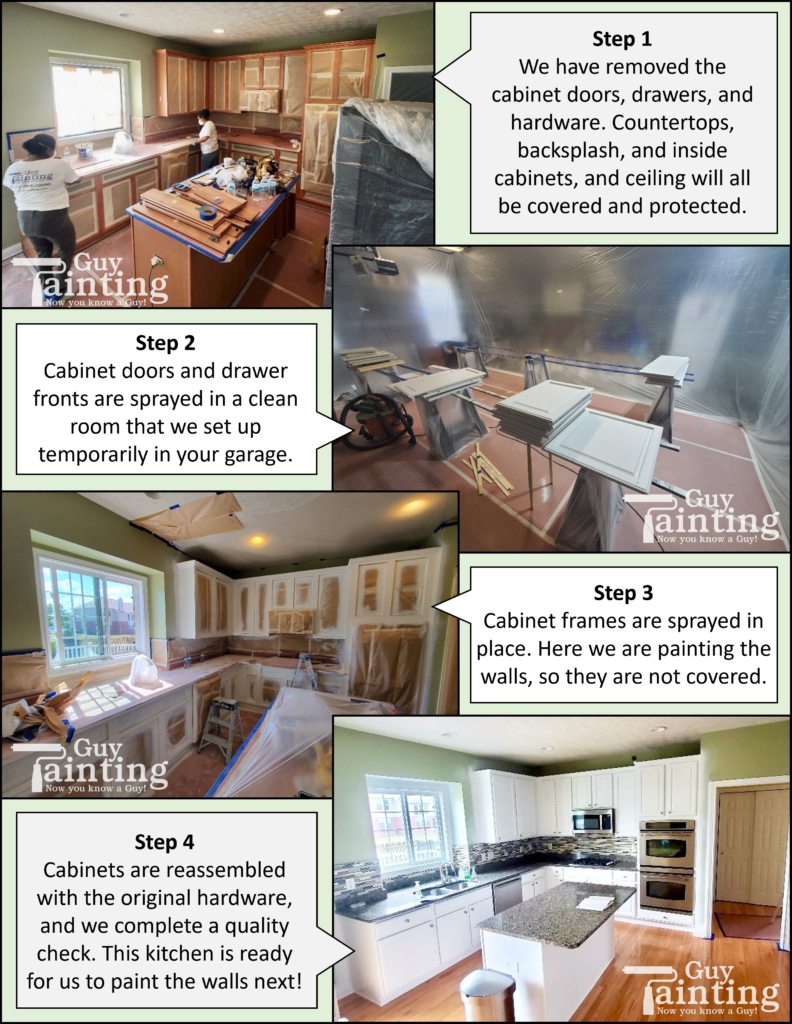 How long does it take to paint kitchen cabinets?
Our process typically takes 3-4 days, depending on the size of the kitchen and the work needed. Our team is always mindful that we are entering your home as guests, so we will treat your house even better than our own! We will do our best to stay out of your way, keep your home and as much of your kitchen as usable as possible throughout the project.
Guy Painting Cabinet Painter Reviews
We're proud of our work, and love when our customer's are proud of their homes! Here's what some of our past customers have said about working with Guy Painting for kitchen cabinet painting:
⭐⭐⭐⭐⭐

Outstanding work. Guy Painting was fantastic. Worth every dollar!

-Dan in Carmel, July 2022
⭐⭐⭐⭐⭐

It went perfect!! The team was very professional and very careful. The cabinets look BEAUTIFUL!!

We love you guys. You are so talented and skilled.

-Dianne in Indianapolis, October 2022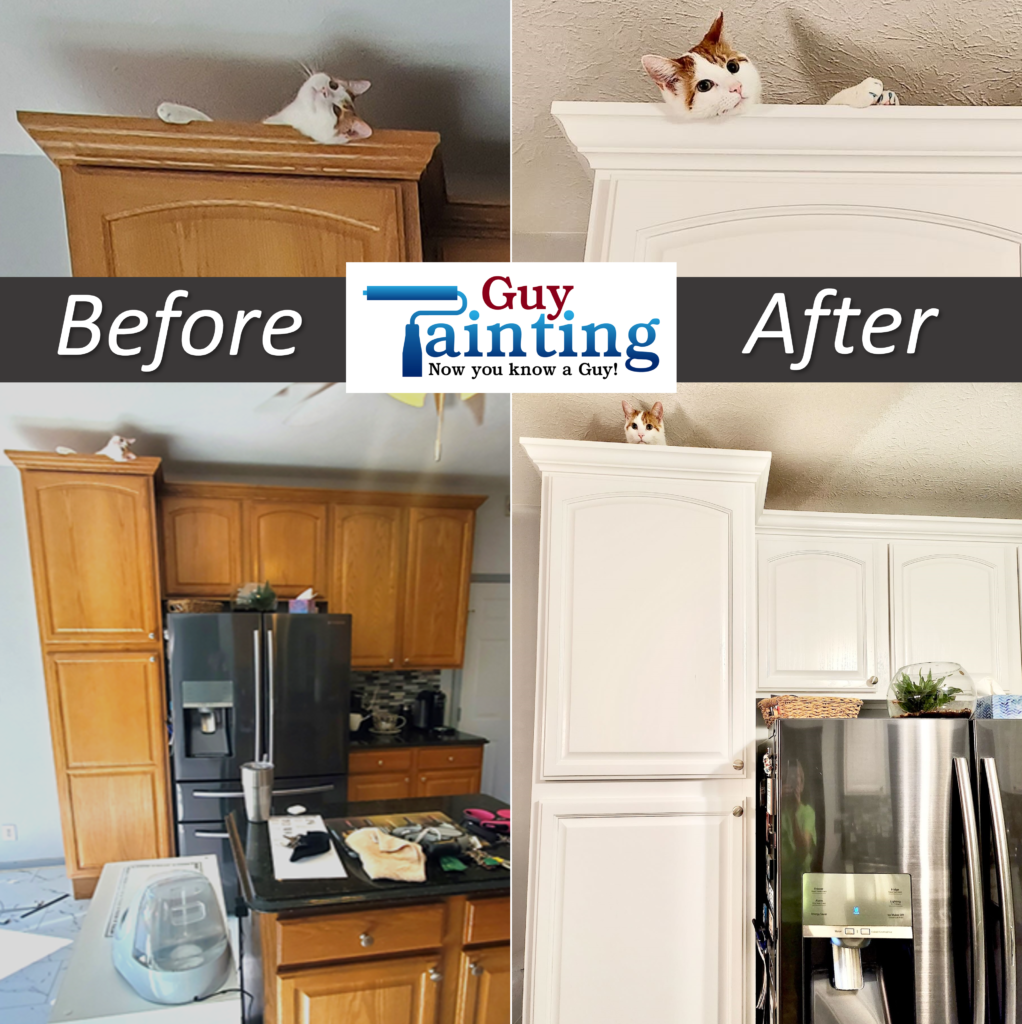 The PURRRFECT solution for a kitchen update that your entire family will love!
Ready to update your cabinets?
Reach out today to set up a free quote!
Fill out our online form here or call us at 317-708-1200.
Kitchen cabinets, bathroom cabinets, laundry room cabinets…
our team of professional painters has you covered!
Guy Painting
Now you know a Guy!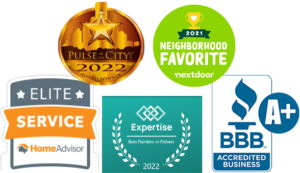 ---