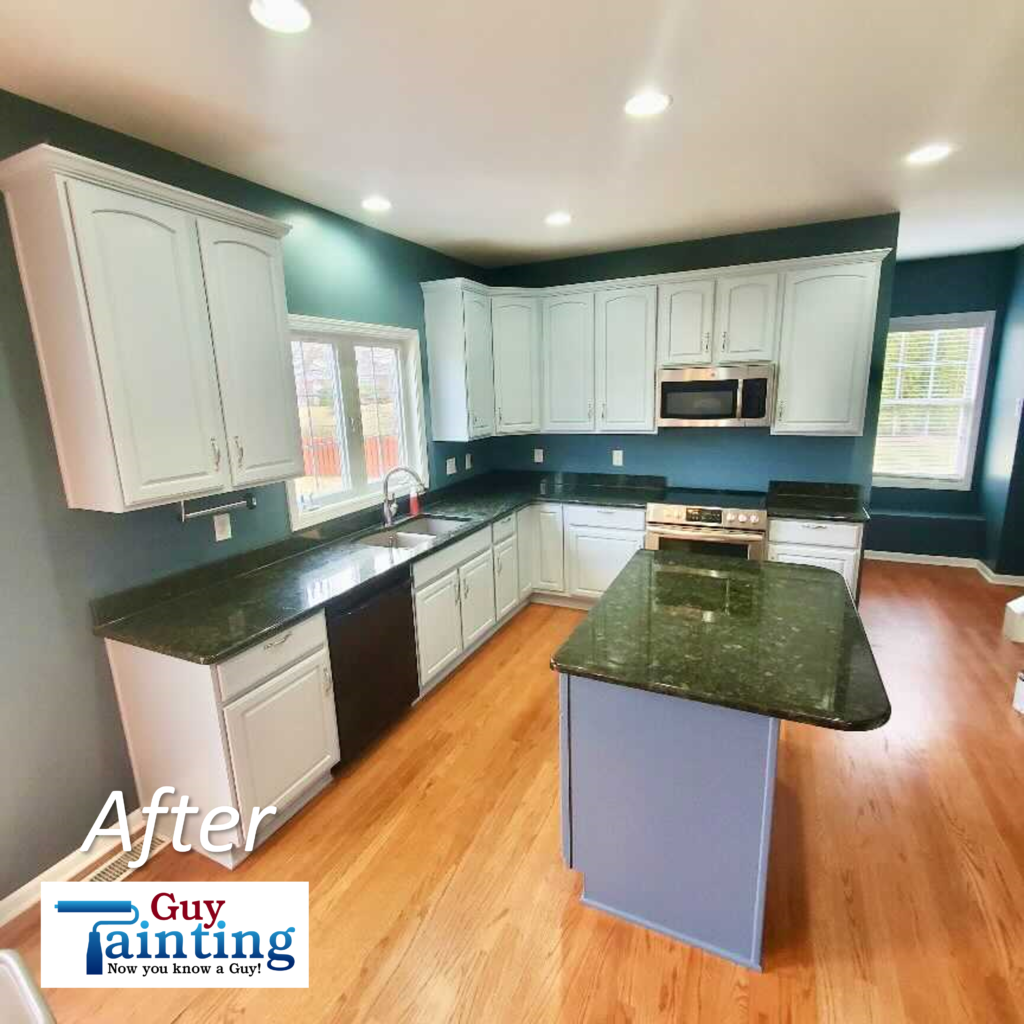 Kitchen Cabinet Updates with Paint!
Like so many Indianapolis area homeowners, this Westfield family was looking for an update to their dated wood kitchen cabinets. They were not new to Guy Painting, they had recently moved into a new house and had already had us out to paint most of the interior of their home and were getting ready for us to come back to paint a few more rooms! Since they loved working with Guy Painting, they decided to get a free quote to paint their kitchen cabinets, too. We've been painting a lot of kitchen cabinets recently!
They had a great kitchen layout and the cabinets were in good condition, so it did not make sense to replace the cabinets. Luckily, painting kitchen cabinets is a cost-effective way to get that updated look for less money than replacing the cabinets! They met with Sean, to go over options and pricing to paint kitchen cabinets. Sean got some measurements and gave them a quote on the spot so they could make a decision on what they wanted to do for the home. Since they were familiar with us, they signed up on the spot to get their kitchen cabinets painted!
The process for painting kitchen cabinets takes a few days, and as with all painting projects, prep work is so important! Our professional painters take care the protect everything in the kitchen. We put down coverings on the floor and we tape off everything that won't be painted with plastic. We remove doors and drawers and set up a separate area to spray those items. For cabinetry, we spray everything including the cabinets themselves in order to leave a smooth finish free of brush or roll marks.
In this kitchen, the customer wanted a different color on the island. For this, we end up covering the rest of the cabinets and spraying the island first, and then covering the island and spraying the rest of the kitchen.
The colors used were:
Wall color: Sherwin Williams SW 7624 Slate Tile
Island color: Sherwin Williams SW 6247 Krypton
We love the way the white cabinets pop against the slate blue walls. It's a beautiful look and the homeowners love it! When asked how the process went, they said:
It went very well & only 3 days from start to finish.
All painters were efficient, friendly, and did a great job!
Another 5 star painting job by Guy Painting! Are you ready to get a free quote for your kitchen cabinets? Click here to send us a message or give us a call at 317-708-1200 and we can talk about your dream kitchen!