We hear it all the time: "My home is so boring – the walls are all the same color!"  – or –  "I recently bought a home and I can't stand the colors! I just want bright white walls everywhere!"  There's no one right way to paint a home, and our professional interior painters at Guy Painting turn your house into your dream home – by painting with colors that match YOUR style and personality!
In this series, we are looking at some of the color choices our customers have made to personalize their homes!
There are a few decisions to make when you're thinking about painting inside your home. Of course, you need to find the best painter near you. Luckily, you know a Guy, so you've already found the best interior painter in Indianapolis! The next step is to decide on a color… but how do you find an interior paint color that matches your style and personality?
The good news is that you're not on your own. Guy Painting offers color help through our team of painting experts. We have decades of experience painting homes, we have seen many colors in action and can help you with how to choose paint colors for your space. For many of our painting projects we are even able to offer a complimentary color consultation with an interior designer who specializes in color choice!
Choosing a white paint color
If you want a bright space that feels modern and full of light, you can't beat the simple elegance of white!
How do you pick a white interior paint color for your home? There are so many options! Just looking through Sherwin Williams white paint colors online can be overwhelming.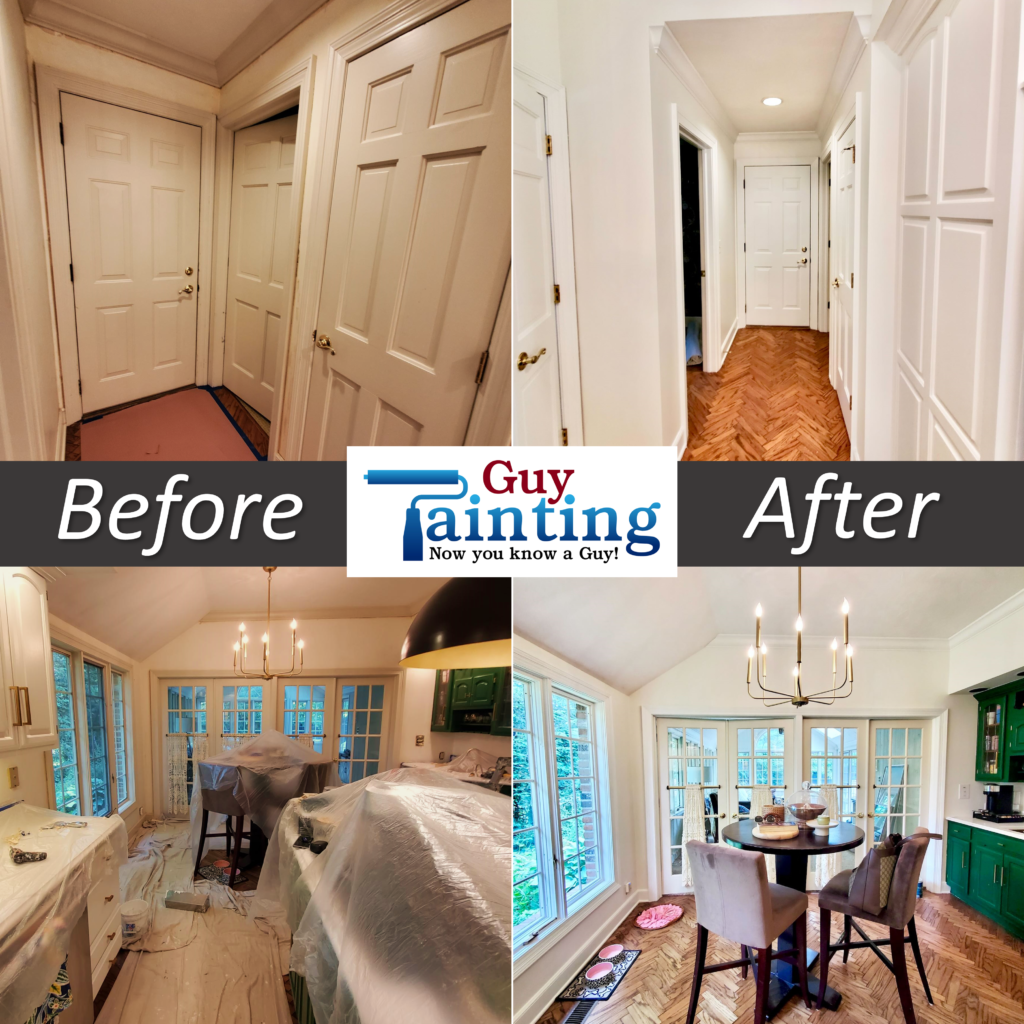 A few tips for choosing a white paint color:
Watch for undertones that match your home. Is your flooring a warm tone or a cool tone? What about your cabinets and countertops?
Check the LRV (Light Reflective Value) of white paints. The higher this is, the brighter your room will be. As the number gets lower, the white will also have more undertones.
Are you keeping the walls and trim the same shade? Using a more off-white with bright white trim is an option if you feel all white is too stark.
If you are painting over darker walls, make sure you are using a primer. We typically use an oil based primer to ensure coverage. The last thing you want on a white wall is to see the previous color streaking through.
Take a look at some of our recent interior painting projects for color inspiration!
Fishers basement gets bright update
The reality is that basements can feel dark no matter what. Even with these great doors and windows letting in light, this Fishers family knew their basement could be even better! The solution here was bright white, and they chose Sherwin-Williams SW 7004 Snowbound.

Snowbound was the Sherwin Williams Color of the Month for September 2022, and we expect to see it growing in popularity for homes like this.

Indianapolis home goes modern with white paint
These homeowners in the Geist area knew they wanted to update their home with something that would feel modern and bright. When choosing a shade of white, she knew she wanted the brightest possible option. For that, the clear choice is Sherwin Williams Extra White. This is the purest white and the lack of any undertones means it works with just about any colors you want to use in your home decorating!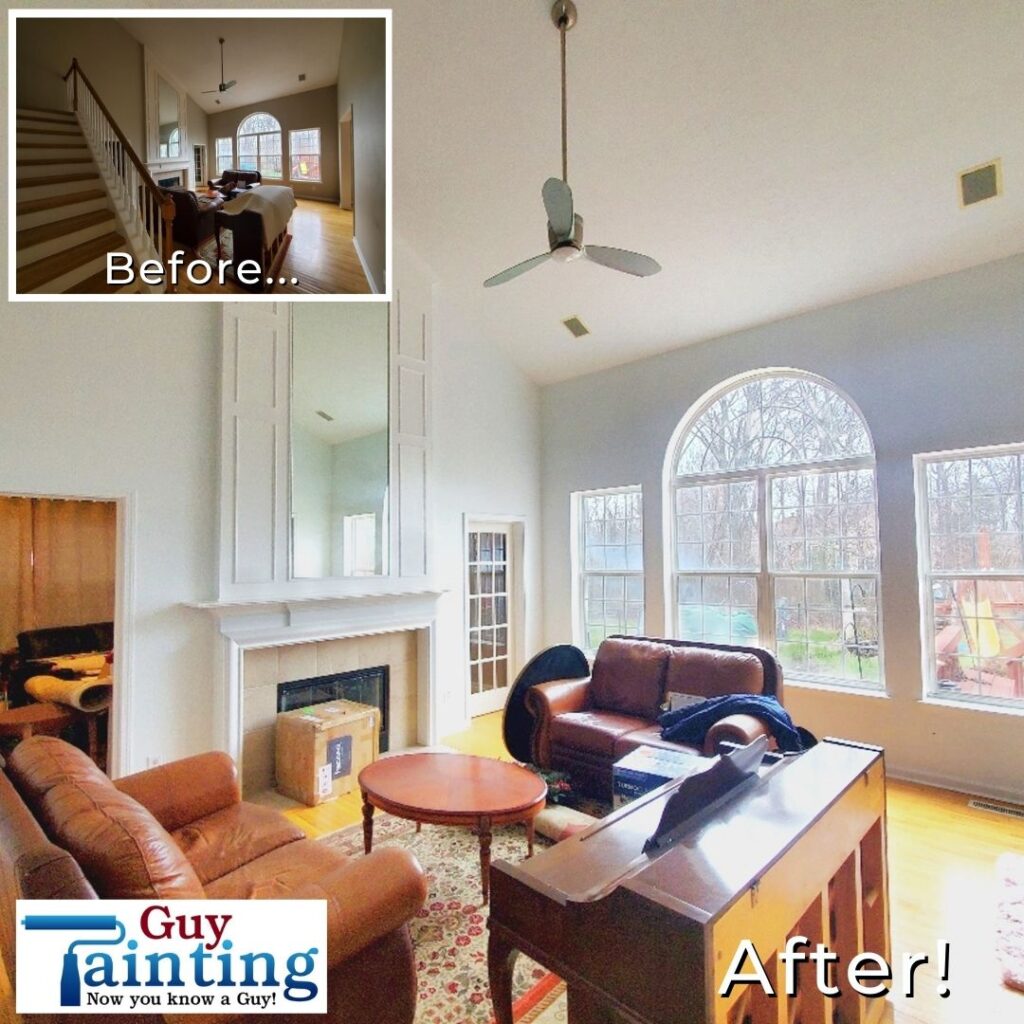 You may be wondering how to brighten a dark room, and this is a great example of the difference that paint makes! The color before was a neutral beige/tan, and it was not that dark. But painting with white makes it look significantly brighter!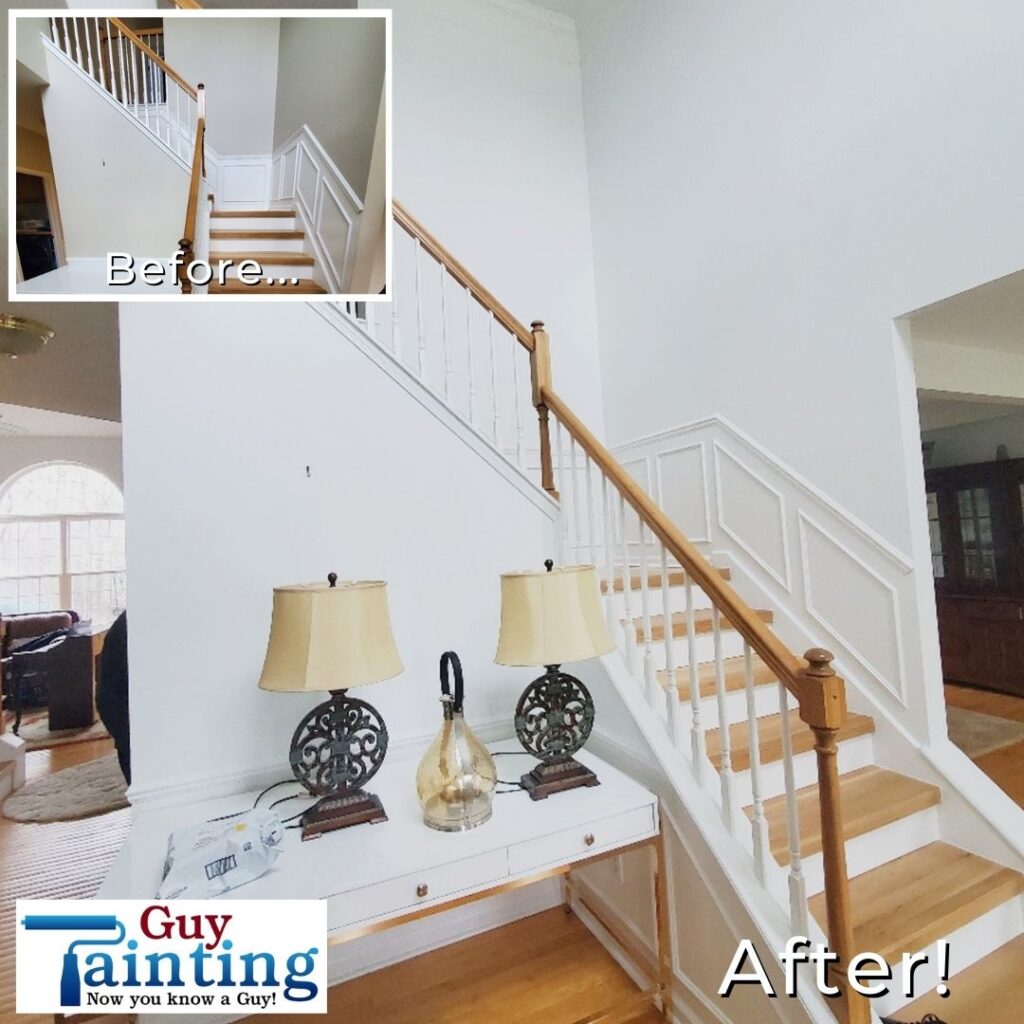 As the first thing your guests see when they come into your home, your foyer should set the tone for the rest of the house. Some people feel white can feel stark and cold, but paired with the warm wood stairs and floors, it looks modern and welcoming in this home!
Now you know a Color Guy!
If you're thinking about finding a painter for the inside of your home, you're in the right place. Now you know a Guy! Reach out today to schedule your FREE INTERIOR PAINTING QUOTE online or give us a call at 317-708-1200.
Your team of professional painters and managers will work to turn your home into your dream home!