Here is another fantastic Cabinet Painting job by Guy Painting!
The Reed's kitchen cabinets were getting worn and they started to look in to updating them and the kitchen to their taste.  After weighing the options and costs they decided on painting them.  They found it was more cost effective then replacement and a lot less headache and hassle as well.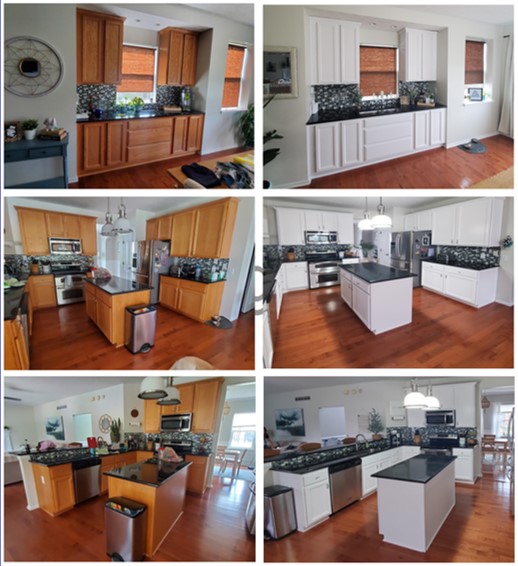 The Reeds began looking for a company they could trust to do a good job and wanted a job that looked factory finished and would ware well over the years.  After looking online, Angie's List, and on the NextDoor App – one company kept coming up with great recommendations and  reviews.  GUY PAINTING!
From the time they met with Alltus, they knew that Guy Painting was a step above the competition, and found the pricing to be fair, so, the Reeds got signed up for the project to start the next month.
We started on time and the customer was impressed with the prep work and the amount of time and care that we took in protecting their home. They spoke about the amount of tape, paper, and time.  They also commented on how the guys worked nonstop with purpose and efficiency.
As we wrapped up, the Mrs. Reed made several comments on the projects: "finish was so smooth", "factory finished look"  and "made the cabinets look like new".
The Reeds told us they were happy with the communication and service from start to finish.
We are very thankful to have worked with the Reeds and super proud of the finished job and the customers satisfaction!
Who is next?
Let's update your kitchen and life?
 G

reat

P

eople     

G

reat

P

ainters
G

uy

P

ainting
Now You Know a Guy!