We thought we wood share how this Westfield Home gets Modern Color Update.
After purchasing this gorgeous Westfield home, the new owners gave us a call to help bring a new modern color scheme to life on the exterior.
The house had the original paint colors from when it was built ten years ago, and it was time for an update. The sides had beige siding with red siding on the front of the house, and a beige garage door. The home was gorgeous, but they knew it had more potential.
Guy Painting has been a popular painter in this Westfield neighborhood. The homes are at the age where many are needing a fresh coat of paint, and many of this homeowner's new neighbors already had a great painting experience with Guy Painting in the past. When they asked for painter recommendations and painter reviews on their neighborhood Facebook group, they knew that Guy Painting was the best painting company for their exterior painting job and they called us right away to set up a free quote!
Choosing Colors
We're seeing a lot of homeowners who are wanting to go to a cool and modern look with gray tones, and in this case the homeowners wanted to balance out the brick and stone on the front with that neutral cool color scheme. They chose Sherwin Williams SW 7019 Gauntlet Gray, which is a deep gray with brown undertones. This works well paired with the brick and stone on the front, as well as the warm colors of the stone patio in back. For trim, they chose Sherwin Williams SW 7005 Pure White for a crisp and clean look.
If you are having a hard time choosing colors for your home, don't worry! We offer complimentary professional color consultations where we send a designer to your house to help you choose. She will work with you to understand what your goals are and how we can make that happen with your home.
Getting Started
We always want to get any exterior wood replacement taken care of before painting. It's something we check at the quote appointment – we look for any needed trim replacement, rotted siding and window trim, basically any wood that needs to be replaced in order to provide you with a paint job that will last. Luckily, this home was relatively new and did not need very much wood replacement at all!
Our painters were scheduled to get started, so they came out and power washed the house to clear off any dirt or debris, and painting started the next day. Our professional painting teams are efficient and work quickly to get your house painted in a timely manner. After only a few days, our team had this house looking incredible and ready for a new family to live in and love for years to come!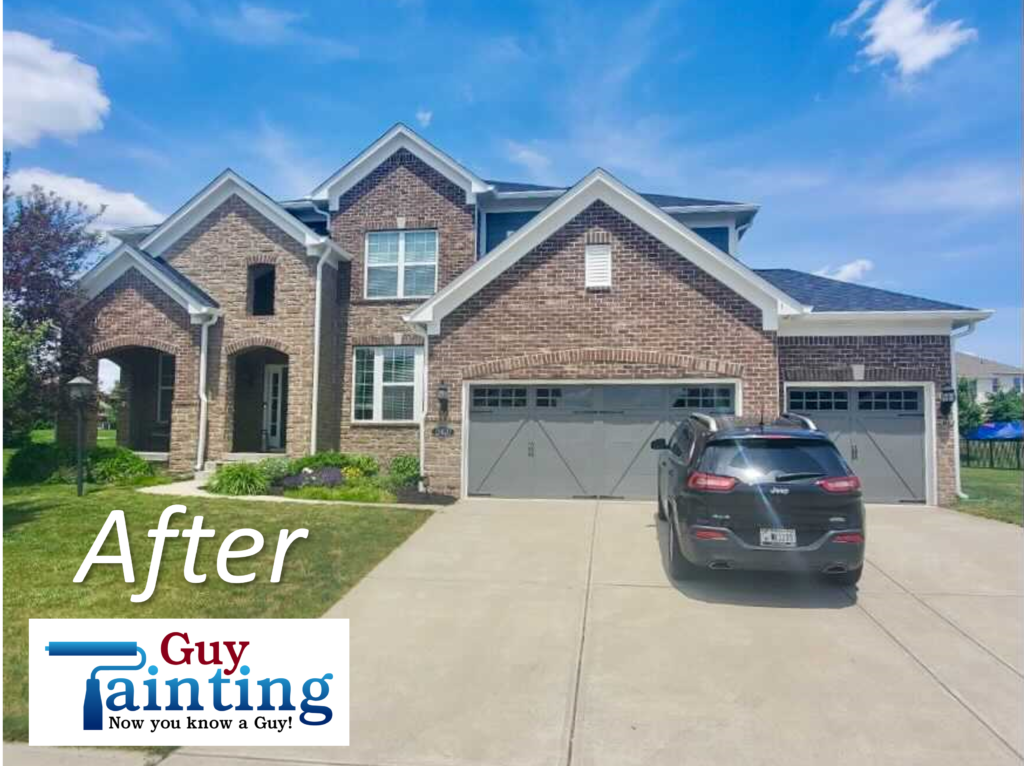 When you're ready to transform your home, give us a call and let us go over all the ways that Guy Painting can put our years of experience to work for you.
GUY PAINTING – Now you know a Guy!  317-708-1200